The CE Series School Bus by Navistar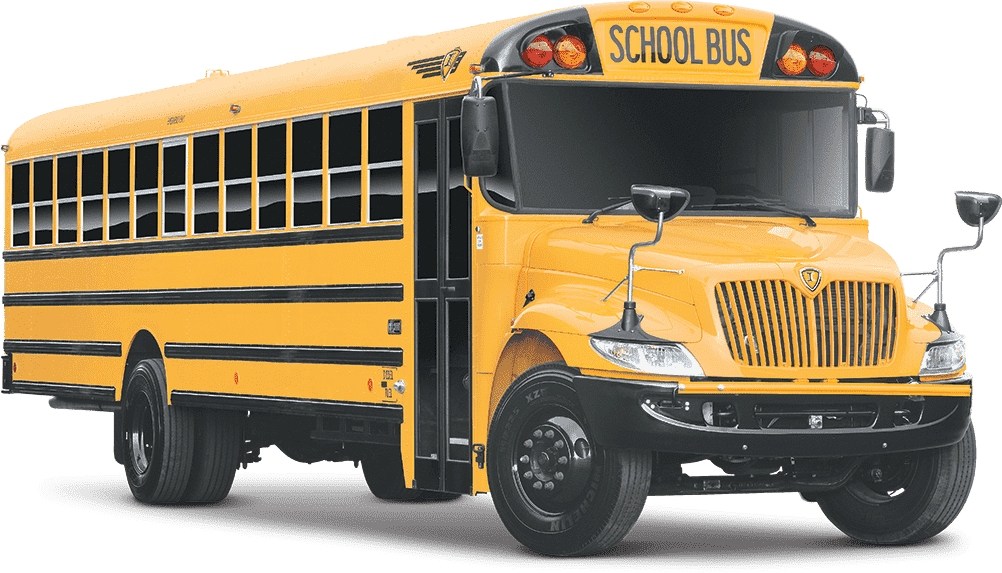 Leave No Student Behind®
rear bus alarm
You need buses that reach their destinations with ironclad predictability. The CE Series was engineered from the tires up to withstand the rigors of daily use and get your passengers there on time, every time. Power your ride with diesel, propane, or gasoline engines and access tools and resources to operate as efficiently as possible—all with a line of buses that are fun to drive. 40–100 gallon
SAFETY FIRST
Getting your passengers from point A to point B, safely and on schedule—that's our job. It's why we apply the highest standards into every product design. With new technology like electronic stability control and collision mitigation now standard on all IC Buses, our manufacturing process ensures we're building the best buses on the road.
COUNT ON US
If we don't successfully transport kids from point A to point B safely and on schedule, we're simply not doing our job. That's why we stop at nothing to apply the highest standards into every product design and manufacturing process to ensure we're building the best buses on the road.
AHEAD OF THE CURVE
We live in a world where technology is front and center. That's why the IC Bus is a proven leader in embracing the most innovative technologies for the bus industry. We're continually breaking new ground by introducing technology that gives you visibility to the health of your entire fleet through a single portal, no matter what make or telematics provider. And that's just the beginning.
AT YOUR SERVICE
The challenges of managing an entire fleet of school buses can be daunting, which is why we provide the tools and resources to enable you to operate as efficiently as possible. We have numerous product features that allow mechanics to more easily maintain and repair buses. Additionally, IC Bus dealers are unmatched in terms of locations and dedication. After all, more uptime is what gets kids to school on time.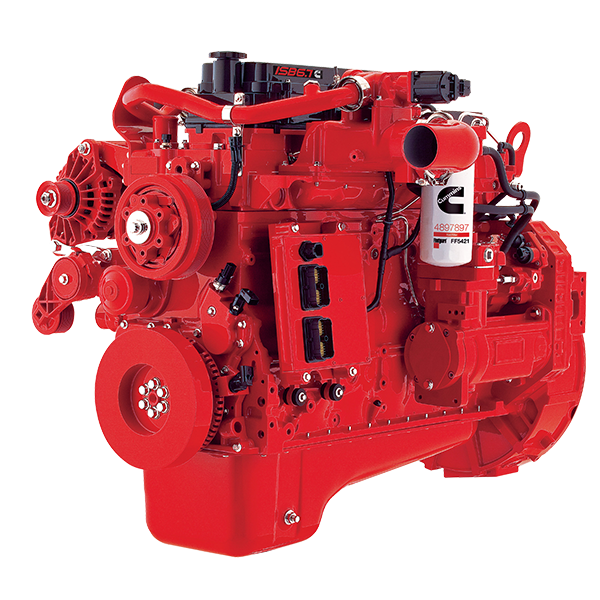 Cummins ISB
Cummins ISB 6.7L is the industry's proven and most accepted engine in the industry today. It features:
VGT Turbocharger From Cummins Turbo Technologies. The patented design is widely recognized as the industry leader for performance. Electric actuation improves precision and responsiveness. The VGT Turbocharger also increases fuel economy and braking horsepower.
High Pressure Common Rail (HPCR) Fuel System from Cummins Fuel Systems.Higher injection pressures produce quick throttle response at every RPM. Optimized timing increases fuel efficiency, lowers emissions and enables smoother, quieter operation.
Single High-Capacity Electronic Control Module (ECM). A single ECM manages the engine and aftertreatment system for optimum performance and fuel efficiency.
Fleetguard® Fuel Filters and Lube Filters. From Cummins Filtration Fleetguard filters protect against corrosion and contaminants with innovative technology such as NanoNetTM media, which provides 10 times better protection than conventional fuel filters.
Cummins Aftertreatment System From Cummins Emission Solutions. Proprietary system consists of a Diesel Particulate Filter (DPF) and Selective Catalytic Reduction (SCR) technology for near-zero emissions.
PSI Propane
The CE series PSI offers an easy to use and inexpensive alternative to diesel. It features:
High Torque and Lower RPM – Made to run at similar level of performance as diesel engines, PDI propane engine is purpose-built to deliver higher torque at a lower RPM for greater efficiency.
Maximum Durability – Design for low-speed operation, the PSI 8.8L propane engine is able to reduce wear and heat vibration, resulting in an incredible durable engine to last day-in and day-out.
Greater Power and Performance – Key components, controls as well as engine displacement have been specifically engineers and built for bus solutions, making the PSI engine the most powerful medium duty propane and alternative fuel option in the industry.
More Transmission Options – The PSI engine not only gives more transmission options, including the Allison 2500 – it uses the same diagnostic system regardless of fuel or power needs. This approach allows for consistency in drivability and servicability across your entire fleet, no matter the fuel type.
Greener Alternative – Between producing fewer vehicle emissions than gasoline, its low pollution characteristics and availability in dealerships across the country, propane is the smart choice when it comes to alternative fueling.
CE Series School Bus Features
WHEEL BASE
158″, 169″, 193″, 217″, 236″, 254″, 276″

CAPACITY
29-78 passengers

GVWR
23,500-33,000 lbs

FRONT SUSPENSION
8,000 lbs standard
Higher ratings available

REAR SUSPENSION
15,500 lbs with veri-rate
steel spring capability
Higher ratings available
Air suspension available


ENGINE
Cummins B6.7
PSI 8.8L (Gasoline or Propane)

TRANSMISSION
Allison 2500 PTS / Allison 3000 PTS with Fuel
Sense Technology
Eaton Precision Dual-Clutch Transmission

BRAKES
Full power hydraulic brakes with ABS and ATC
Optional air brakes with ABS

FEATURES
Top-mounted, fuel and oil filters
Electric entrance door
Easy-tile three-piece fiberglass hood
Widest entry door in the industry