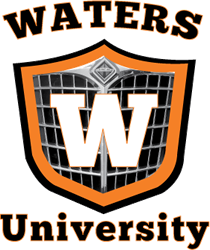 WATERS University Mission
At WATERS we feel it's our duty to equip our customers with knowledge so they remain compliant and up to date on the latest maintenance techniques. That's why we developed WATERS University. Since 1938 our mission has been to provide the highest level of customer satisfaction through supplying proper products, building relationships, timely service, and integrity.
Hands on Education
We bring in industry leaders to educate and inform our customers on a broad range of topics ranging from AC diagnostics to DOT compliance legislation. These comprehensive training sessions teach our customers how to operate and maintain their International/ IC vehicles for optimum Uptime and reduced maintenance costs. These Hands On classes are fully funded by WATERS. The customer pays $0!
Next Level Customer Service
Getting away from the office/ shop is no easy task. That's why these sessions take place in various locations across the state to minimize the drive time for our customers and increase their access to education. We're coming to a town near you!
Online Training
WATERS also offers a variety of online classes including Diamond Logic Builder, Wiring/ circuit diagrams for medium and heavy duty vehicles, and so much more! All courses cost $30 per person, per course hour. A 2-year license agreement is purchased for $300 by the company for an unlimited number of employees eligible for participation. Each student receives an individual user name and password for access to the training site from any internet enabled computer.
Can't find the class your looking for? Contact Josh Waters at jwaters@waterstruck.com