The International eMV Series
Introducing the Newest Member of the MV™ Series – the eMV. Welcome to a New Era of Effeciency
Introducing the revolutionary International® Electric MV™ series, specifically designed to be just what you need for your fleet – because we thought about more than the vehicle itself. We thought about the entire ecosystem.
The eMV is built on the same proven foundation as the diesel MV which includes built-in corrosion protection, a huck bolted frame ladder, chassis braking including anti-lock brake system (ABS), electronic stability control (ESC) and automatic traction control (ATC) as well as numerous straight rail upfit possibilities. Key enhancements that come standard with the eMV include vehicle-to-grid (V2G) and vehicle-to-building (V2B) with a DC charger, and three degrees of regenerative braking standard. Easy to use, comfortable to operate and offering iron-clad dependability, the new eMV™ Series is a groundbreaking solution with real-world usability. It's the electric truck – done just right.
Click Here to Download the Brochure
Learn more about the LT Series at www.internationaltrucks.com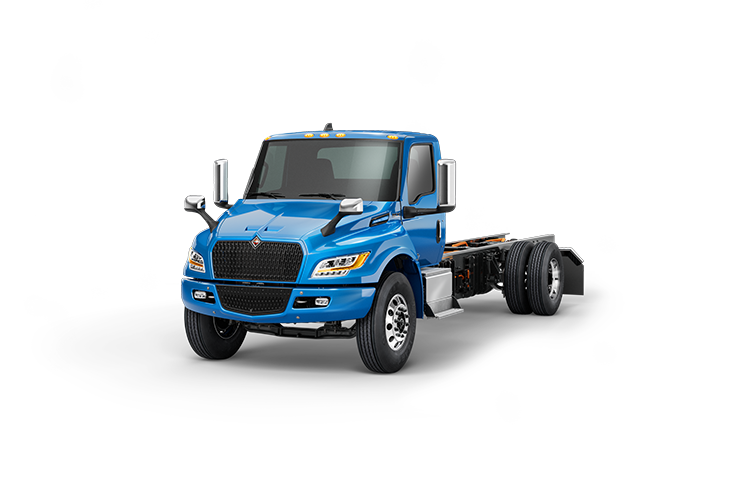 INTERNATIONAL® EMV APPLICATIONS
The new eMV™ Series suits any straight rail application* and with a vehicle performance of 335 hp and battery capacity of 135 miles the new eMV is ready to help you get the job done, no matter what job comes your way. And its new thoughtful design with improved visibility through sloped hood and breakaway mirrors provides additional safety for your crew.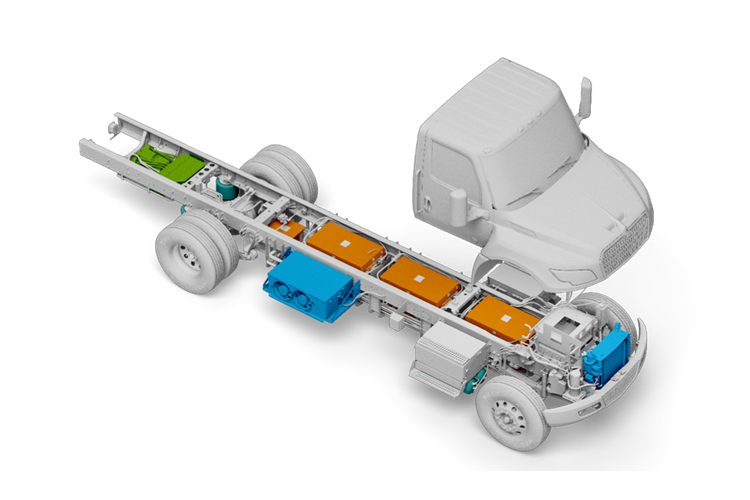 WHAT MAKES THE EMV™ SERIES UNIQUE?
Built on the same proven foundation we use in our diesel MV, we made some key placement changes including the batteries and battery controller; the motor controller and motor; the radiator and Battery Thermal Management System (BTMS); as well as the air tanks and air bag suspension.
Key features of the new eMV include:
210kWh battery pack
135 mile range
Electric drive motor
Industry leading 3 levels of regen braking
AC/DC charging and capability with up to 125kWh DC fast charge
VTG capability and a new full digital display
International eMV Maintenance Schedule
It's no secret electric vehicles require less maintenance. With substantially fewer parts, an electric motor simply does not have the maintenance or service requirements of an internal combustion engine. Plus, thanks to regenerative braking, the standard brakes last much longer between service intervals.
TAKE THESE OFF YOUR SERVICE PLATE
No engine oil maintenance | No transmission maintenance | No fuel filters | No turbos, no EGR, no Injectors | No engine air filters, no MAF, no O2 | No aftertreatment
International eMV Series Media